The Commission helps restore, preserve, and memorialize cultural heritage properties, including cemeteries, monuments, and historic buildings. Most projects are funded by donations from Americans. Much of this money is generated by Commission Members. Some projects receive assistance from the governments' of the location of the property.
Projects are identified by U.S. citizens, federal officials, foreign governments, and non-profit organizations as well as by Commission Members.
Commission assistance is generally provided through interventions with governments and sometimes provided through Commission sponsorship. In some cases, the Commission transfers funds, oversees fieldwork, and provides technical assistance on behalf of the project sponsors in the U.S.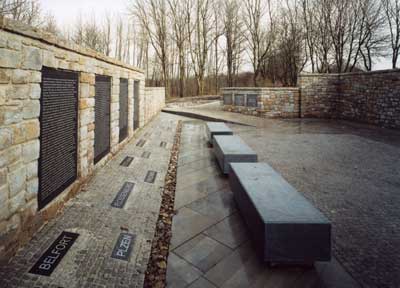 Representative List Of
Current Commission Projects
Representative List Of
Past Commission Projects
Armenia
Armenia Genocide Memorial
Austria
Bosnia and Herzegovina
Sarajevo Jewish Cemetery Burial House Restoration
Bulgaria
Poptodorova Lecturer Series
Plovdiv Synagogue Restoration
Dimitrov Program
Bohlen Scholarship
Czech Republic
Trsice Holocaust Memorial
Terezin Institute
Terezin's Hidden Synagogue
Rabbi Regina Jonas Memorial
Jewish Cemeteries Restoration Initiative
Estonia
Estonia Holocaust Markers
Germany
Mittelbau-Dora Holocaust Memorial
Buchenwald Little Camp Memorial
Hungary
Pope John XXIII Memorial
Gyongyos Holocaust Memorial
Gulacs Jewish Cemetery
Israel
Italy
Latvia
Restored Latvia Holocaust Memorial Dedicated
Rumbula Holocaust Memorial
Daugavpils Synagogue Restored
Lithuania
Yurburg Jewish Cemetery
Uzupis Jewish Cemetery Preservation
Macedonia
Bitola Jewish Cemetery Preservation
Poland
Holocaust Memorial In Wolska Dabrow, Poland Dedicated
Kaluszyn, Poland Jewish Cemetery
Serock Jewish Cemetery Holocaust Memorial
Wyszkow Jewish Cemetery Preservation
Ozarow Jewish Cemetery Preservation
Mass Grave Sites
Kielce Pogrom Memorial
Karczew Jewish Cemetery Preservation
Auschwitz Judeo-Spanish Plaque
History of the Auschwitz Killing Center
Bialobrzegi Jewish Cemetery Preservation
Romania
Bucharest Pogrom of 1941 Memorial Dedicated
Gherla, Romania Holocaust Memorial and Synagogue
Giurgiului Jewish Cemetery Restoration
Russia
Bryansk Holocaust Memorial
Slovakia
Trencin Castle
Potoky Wooden Church
Greek-Catholic Wooden Churches
Bardejov Holocaust Memorial
Banska Stiavnica Jewish Cemetery
Ukraine
Berehovo (Beregszasz) Synagogue and Holocaust Memorial
Vinnitsa Jewish Cemetery
Jewish Cemetery in Roshkoshne, Ukraine Preserved
Fastiv Holocaust Memorial
Dymer Holocaust Memorial
Brody Jewish Cemetery
Brailov Holocaust Monument
Berdichev Jewish Cemetery
Batovo Jewish Cemetery Preservation
Baryshivka Holocaust Memorial